Fort Lauderdale AC Services - Emergency AC Service
It's your worst nightmare when you find your air conditioning non-operational during one of the hottest spells of Fort Lauderdale, FL summer! These gifts of technology have become so ingrained in our lives, that we've now come to associate our comfort with it – and giving up on that comfort, even for a few hours, might seem like a tumultuous task. When your AC operation goes haywire, you need someone you can trust to get things running again - and that someone is Fort Lauderdale AC Services. Make one phone call to 954-317-0218 and we'll be there, to resolve any impending issues and restore your comfort and cool right away.
AC emergencies: Are they even possible?
Dismiss it all you want, but AC emergencies are very real and very frustrating. Ask us, we know, because we've seen hundreds of such cases during our twenty-year run in the area. While the common consensus leans towards the assumption that air conditioners are robust components, designed to withstand rough usage and uninterrupted operation, the reality is far from that.
True, with the right usage and proper maintenance, your air conditioners will run without a hitch, but that still doesn't eliminate the possibility of encountering operational troubles from time to time. Sure, if it happens during regular business hours, the impact might not seem as drastic. But when these issues arise at an odd hour, that's when you're in real trouble. Battling stiflingly hot temperatures in your home or office for hours together until you find the requisite help can be extremely hard to deal with, especially if there are kids or elderly people at home. That's why; it's important to never rule out such possibilities and always know which emergency AC service to call.
Who do I turn to for help?
Out of sheer desperateness, the first thing you do when facing an AC emergency, is turn to the internet for solutions. You may read countless troubleshooting steps, and manuals explaining how you can fix the problem yourself. Our advice: DON'T do it! Air conditioners are intricate components and attempting to manhandle them may only further aggravate the issue and lead to expensive repairs.
A 24-hour service company:
When summer comes, so does an influx of cash for 24/7 emergency AC service companies. With the rigorous use residents in Fort Lauderdale, FL area put their air conditioners to, breakdowns and malfunctions are quite common – and that is something most companies seek to exploit, quoting prices that are 2x or 3x higher than standard rates.
Fort Lauderdale AC Services:
When an emergency comes knocking at your door, and you're desperate enough to do anything to get your AC running and comfort back, we're the ones who'll get to you faster than anyone else. Working round-the-clock, we charge standard rates for our emergency AC services, serving both residential and commercial clients. We won't keep you waiting, we won't charge extra, and most of all, we'll resolve the issue right when you need it!
Here's a look at some of the services we provide: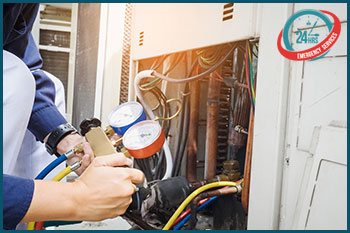 Emergency AC repairs
Filter change
Fixing faulty thermostats
Overnight installations
Refrigerant leak resolve
Refrigerant refill
Commercial HVAC emergency solutions
Jammed part lubrications
Clean-up
Air quality improvement
Noisy operation fix
Tightening loose electrical connections
Whether you want us to fix your faulty air conditioning at home or are in need of an urgent installation at your commercial property, trust us to deliver on the emergency AC services you need. Give us a call on 954-317-0218 now!