Fort Lauderdale AC Services - AC Repair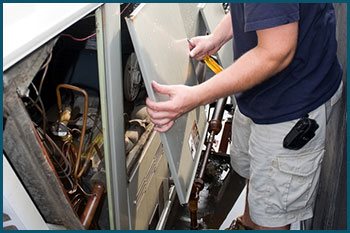 Once the winter passes, everyone in Fort Lauderdale, FL area is quite welcoming of the warm, sunny, summer temperatures. While the mercury may not reach a breaking point, it can surely reach an uncomfortably hot peak that will warrant the need for your air conditioners to be running round-the-clock. As much as we'd like to tell you otherwise, there's absolutely no guarantee that your AC will function 100% of the time and not give up on you. Sure, the occasional maintenance checks and upkeeps do help in minimizing the chances of running into AC trouble, but that still doesn't assure you uninterrupted operation. That is why we suggest acting upon the first signs of trouble and make sure you get prompt AC repair services from the experts at Fort Lauderdale AC Services
Here are some of the tell-tale signs that must have you reaching for your phone and dialing our number 954-317-0218 right away:
AC is blowing warm air: If your air conditioner fails to serve the very purpose it exists, then it should send alarm bells ringing right away. Warm air or simply air that isn't cool enough as per the temperature adjustment is a sure-shot sign that your air conditioner is one step shy from a total breakdown. Call in repair specialists right away when you notice this.
Noisy operation:No doubt your AC makes some noise during operation, be it the sound of the compressor kick starting or the whoosh of air in the ducts. Besides these regular sounds, if you hear anything out of the ordinary, it should signal an underlying problem with your unit. This can range from bent components or lack of sufficient lubrication. Hire repair experts at once.
Short cycling:If your air conditioner keeps starting and stopping in short cycles, it could be more than just frustrating. Your place can take a longer than usual time to cool. Add to that, you'll find your energy bills skyrocketing in such cases. This can be either due to refrigerant leaks, thermostat errors, faulty capacitors or even a clogged air filter. Fort Lauderdale AC Services can diagnose and fix the issue.
When trouble comes calling, call us:
Your air conditioner isn't bound to last forever, atleast not with the rigorous use we put it to in Fort Lauderdale, FL region. You're sure to run into occasional hiccups; these are mechanical systems after all! At the first signs of trouble, make sure you don't push off repairs until the issue blows up in scale and warrants further expensive repairs. Save yourself the hassle and take prompt action by giving our AC repair experts a call.
Some of the benefits of availing our service include:
For all sectors:Whether you need a small fix on a portable air conditioner at home or a major repair on a commercial HVAC system, our AC services extend for both residential and commercial clients
Immediate response:Giving up on your comfort for hours until your defunct AC can be extremely frustrating. When you call us, we make sure we reach you in less than 15 minutes.
Prompt resolution:Because we're highly knowledgeable and experienced, we can quickly identify the issue and come up with a swift solution, without taking hours for the same.
24/7 service:Did your AC stop working in the middle of the night? Don't worry, our AC repair services are available round-the-clock and we'll fix the issue in no time.
Honest service: Unlike other companies in Fort Lauderdale, FL, we won't unnecessarily suggest replacements, and do our best to fix the issue, instead of attempting to extort money.
Explore all this and more by roping in the best AC repair specialist in town – Fort Lauderdale AC Services. Dial 954-317-0218 now!